Celtic Treasures
In 2010, Roslindale Village, Massachusetts started a tradition that has gained popularity over the years, of supporting small local business on the Saturday following Black Friday. And in a world that's completely dominated, driven, and directed by corporations, every Saturday should be Small Business Saturday. Small, local businesses offer a personal experience that big box stores and online shopping could never deliver to their customers while helping the local economy to strive. For Lisa Caress-Beu, owner of Celtic Treasures, that unique, one-of-a-kind experience and contribution to society is something that she prides herself on. The minute you walk through the door at Celtic Treasures, you a greeted with a cozy feeling, and pleasant scents, that comfort you and give you a home-like feel. If that weren't enough, Lisa carries on an age-old tradition, stemming from the homes of Irish and Scottish people alike, of offering her customers a warm cup of tea.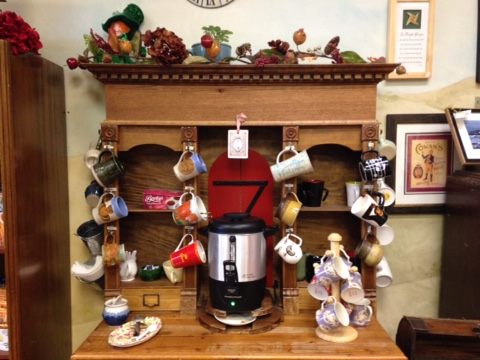 When you enter Celtic Treasures, Lisa is always willing to make you the perfect cup of tea.
Lisa says more than anything else, she is motivated and driven by the positive feeling she is left with when customers tell her things like, "This is my happy place. Whenever I am depressed I come in here, because you always offer me a cup of tea, and you're so nice to me." As a small business owner, Lisa recognizes the essential need of her shop to sell products in order to stay in business; however, it is ultimately the satisfaction she feels which keeps her wanting to open her shop day after day. "If Celtic Treasures can be a place where people come and they can feel better when they leave here, I'm doing my job on the planet," says Lisa, "it gives me a very positive thing to do with my life." Lisa just celebrated 11 years in business this past November, and business is still going strong. Although Lisa and Angel Eller, her business partner at the time, experienced a lull in sales a few years ago that had them questioning whether they'd be closing Celtic Treasures for good, Lisa now says she hopes to be able to stay open until she's ready to retire. She says she'd like to continue operating Celtic Treasures herself for about another five to seven years.
Nowadays, since Angel has left Alaska and begun to travel with her boyfriend John Walsh--who has been a staple in the Irish music and Celtic communities in Alaska for nearly 30 years--Lisa has had to put more responsibility and faith in her husband Eddie to help her out with the business occasionally. Lisa, at one time, has also had a helper or two, but maintains the business as a sole proprietor. She has also had numerous offers from people in the Celtic community to purchase Angel's old half of the business and become Lisa's new partner.
In reference to her cohesive business relationship with Angel, Lisa says, "it was a good balance because we each brought strengths and weaknesses to the business; or if not so much strengths, preferences. [Angel] preferred to do some things, and I preferred to do others. Now of course, I just have to do all of it." Lisa has learned a lot through single-handedly running Celtic Treasures, and is improving with each new day. As sad as she is that Angel is no longer her business partner, she has no plans to take on another partner, other than her husband.
When Angel was asked about her merchandising magic, she told me, "there are two major tactics for ensuring that return customers walk out of the shop having purchased something more often than not. The most important of which is that you always make sure that your customers have a fresh new inventory to choose from. Next, and almost as important, is that you must rearrange your store a few times a year." Angel says that it's surprising how many frequent customers at the shop have noticed products that they had carried for a year or two, when they simply rearranged how it was displayed.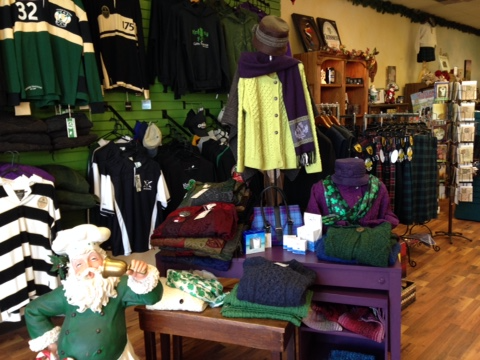 Lisa carries a large selection of Irish Jumpers, as well as a whole line of Guiness gear.
Although Lisa misses her business partner and the immense contributions she was able to make to Celtic Treasures in its formative years, Angel is enjoying her time out of Alaska far too much to consider coming back home to pick up where their partnership left off; and it's quite evident that Lisa has adapted to the change quite well. In fact, Lisa has had so much success with her business lately that she was recently nominated and awarded with the Woman Entrepreneurs of Alaska Award. Part of her success with adapting can be attributed to how inspired she has been by one of the long time members of the Celtic community, Mary Digney, who for nearly 30 years operated the McMac Shoppe, the original Celtic novelty store in Anchorage, Alaska that was located next to Chilkoot Charlie's on 25th Avenue, near Spenard Road.
Now with the absence of the McMac Shoppe, when it comes to the Celtic communities, which includes The Irish Club of Alaska, The Alaskan Scottish Club and The Celtic Community of Alaska, Celtic Treasures is definitely a major hub for all those involved. Lisa says that Celtic Treasures is more or less the central location of all three clubs; where some of them meet for business meetings, and also where tickets to various events for all of the clubs are sold to the community. One of the largest annual events that takes place in the Alaska Scottish community each year is the Alaska Scottish Highland Games, which will be held this year on June 25th and 26th, and for the first time will take place at the Alaska State Fair Grounds. This year the Alaska Scottish Club will host the International Scottish Highland Games and feature 10 of the Highland Game's international heavy hitters.
Make sure to get your tickets for the Alaska Scottish Highland Games at Celtic Treasures in June and head to Palmer to check out the festivities and stop by the Celtic Treasures booth. But of course, there's no need to wait until the games to visit Celtic Treasures, as St. Patrick's Day is just around the corner and now is the perfect time to stop by for all your truly unique Irish gifts!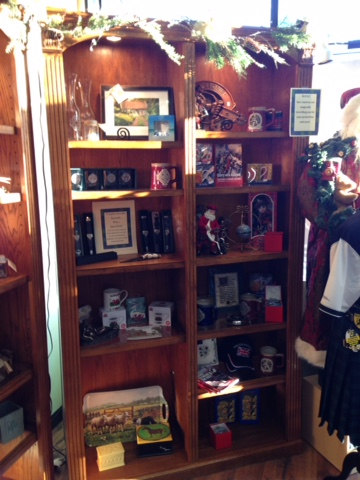 Lisa has you covered for all your unique gift needs for St. Patrick's Day.
If Lisa had to leave customers with one piece of encouragement, it would be to remember small, local businesses throughout the year. They each bring a unique flavor to the city that could never be replaced by a large department store setting. And now, with the advent and the popularization of online shopping, it is ever more important that we support local businesses year-round and not just once a year on Small Business Saturday.
Celtic Treasures is located at 4240 Old Seward Highway, Suite #2, off of Tudor in midtown Anchorage. Lisa Caress-Beu, Celtic Treasures' owner can be found there during business hours: Tuesday-Friday 11am-6pm, and Saturday 11:30am-6pm; CLOSED Sunday and Monday. Celtic Treasures can be found online on their facebook at https://www.facebook.com/Celtic-Treasures-274704899260253/