Sweet Chalet
With its long, labyrinthine hallway and inconspicuous entrance, Sweet Chalet is what some might call an audacious, hidden gem. Though hidden as it may be, it is definitely worth the small adventure it takes to find it! Located at 300 East Dimond Boulevard, Sweet Chalet is on the second floor of the pink building on the corner of East Dimond Blvd and Dimond D Circle, between the West Marine and the FedEx Office buildings in Suite 202. To help guide you just a little more, it is on the south side of Dimond Boulevard, as you head east toward the Dimond Center, right before the railroad overpass.
Despite its elusive location, Sweet Chalet owner, Ingrid Shim, a relatively recent transplant to Alaska, was able to tell me more than a few tales of the development of her chocolaterie and confectionary since its inception in January 2014. One such story that stood out to me was the one she was most proud to tell; about the exponential success her shop experienced during the 2014 Christmas Season and some of the challenges they had to overcome in order to obtain that success.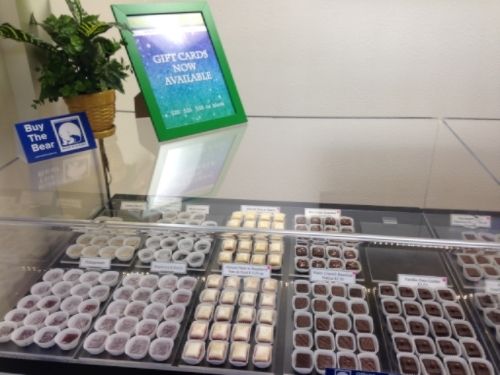 All of Ingrid's sweet treats are made right here in Anchorage, Alaska.
Sweet Chalet, normally staffed by Ingrid and her husband, as well as one or two other employees, was so surprisingly overwhelmed with orders during the holiday season that year that Ingrid resorted to hiring three extra helpers in the kitchen, while Ingrid herself completely dedicated her time to painting her chocolates. Now, don't worry, the "painting" I refer to is not painting in the conventional sense of the word at all; the "paint" Ingrid uses is all edible and food safe quality. In fact, this painting process is one of the elements which makes her signature product so unique... Ingrid remembers how shocked she was, that it was impossible for her and her five helpers to keep their showcases stocked during the Christmas shopping season! She said that every time she turned around they had empty display cases, and although this was unprecedented in the history of her business, it was a HUGE indicator of their progressive successes.
Ingrid almost single-handedly attributes the success of Sweet Chalet to her customers; all of whom she values, but a select few of whom she refers to as her "special customers." One of her special customers is none other than Anthony Martinez, the very person who first introduced me to Sweet Chalet. Anthony moved to Anchorage two years ago from Fairbanks, but has known of Sweet Chalet since about June 2014, and has turned at least a dozen new customers into lovers of Sweet Chalet as well. Early in our friendship, I can recall Anthony always raving about a "chocolate shoppe" he "just had to bring me to!" It was about a good three months after we met this past summer when he was finally able to take me along to discover this wonderful confectionery for myself.
Upon entering Sweet Chalet for the first time, I discovered that Ingrid likes to treat her first time customers with a wonderful sampler that includes a selection of some of her more curious creations. Depending on the time of season, or even the day of the week, the contents of this sampler will vary, but Ingrid says it will always include some variation of one or two cookies; a dark chocolate and milk chocolate candy selection; something with nuts, namely praline; and her current flavors of caramels, three of which I had the honor of trying myself. The sampler, however, does not include the one item she is most famous for, and dedicates a significant amount of her time to producing. What Ingrid likes to call her Aurora Chocolate Bon Bons.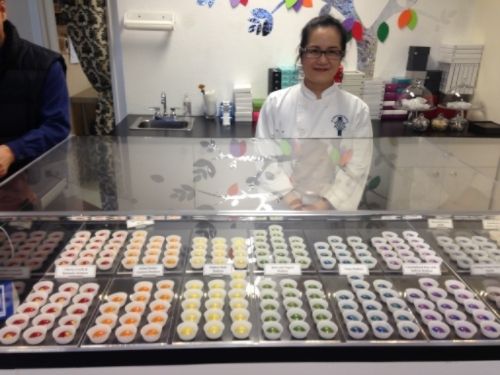 Chef Ingrid with her most famous creation, her Aurora Chocolate Bon Bons.
Aptly named, each bon bon is hand-painted individually using a cocoa butter based "paint," and requires refrigeration before each new color is added to the mix. Although Ingrid and her husband had not been in Alaska long, they were both extremely enthralled and inspired by the first time that they saw the Northern Lights. This is what invigorated Ingrid to create these chocolates that resemble the colors and dance-like movements of the Northern Lights.
Although Ingrid's Aurora chocolates have been a HUGE success, she says that she wants to hone in on an even more uniquely Alaskan experience for her customers. She is currently working on new creations that take inspiration from everything that surrounds us, which is truly part of that Alaskan experience. Ingrid tells me that the Alaskan selection of wild berries have already been used to corner the market when it comes to local chocolatiers creating a unique Alaskan flavor. Ingrid is studying up on and looking into using flowers and other Alaskan agriculture to add a new flavor to her up-and-coming recipes.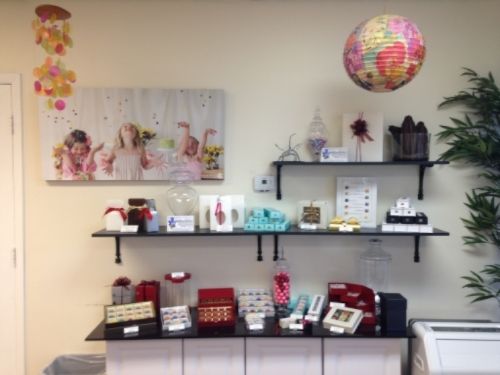 Sweet Chalet's Valentine's Day display, complete with cocoa pods.
Sweet Chalet can be found online through Facebook, where Ingrid loves to update her customers about all the happenings at her shop, and even treat them to sugary-sweet, weekly giveaways. There you can also see a video demonstration which shows the process that Ingrid goes through when making her bon bons, as well as a photograph of the building that Sweet Chalet is located in to make finding it that much easier. And don't forget to stop by the shop soon as possible, as I'm sure these sweet treats will be flying off the shelves of the display cases once again for Valentine's Day. And if you find Ingrid's treats sweet enough, she also sends them all over the Lower 48. So make sure to send your friends and family to her website at:
http://www.sweetchaletalaska.com/
so your loved ones can also share in the taste of a truly sweet and uniquely Alaskan experience!
Sweet Chalet can be found at 300 East Dimond Boulevard at the corner of Dimond D Circle, during their business hours of Monday-Friday 10am-6pm, and Saturday 10am-4:30pm. Find them on facebook at https://www.facebook.com/sweetchaletalaska/.