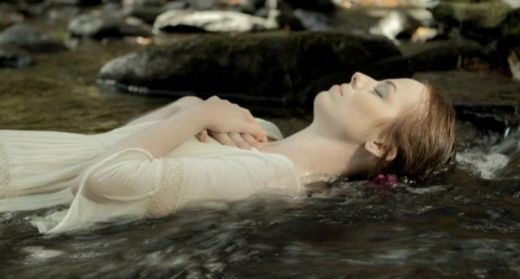 What is it like to live constantly haunted by the death of a loved one? What's more, what is it like when that loved one was your lover, your partner, and your best friend? These are the questions which Christine Vartoughian attempts to give audience members insight into with her film Living With the Dead. In this dramatic movie, Maxine McClean (Emily Jackson), who goes by Max, is troubled by the recent suicidal departure of her boyfriend Adam (Benjamin Frankenberg), to the point of institutionalized insanity. She struggles with the ability to cope, trying several means of escape including prostitution, drugs, and partying; until one day she wakes up in the psychiatric ward at her local hospital after a pill overdose. "Were you trying to get everyone's attention, or were you trying to end your life?," Max is asked by Dr. Quenda (Selenis Leyva). Max simply replies that she "was trying to get some sleep."
"Living with the Dead" Teaser Trailer from Living with the Dead on Vimeo.
Fast forward ahead to the day that Max is released from the ward and allowed to go back home, Max's twin brother Gabriel (Chris Bellant) seems to hate her and un-lovingly tortures her for being "a psycho" and "popping pills." And while Max seems uncertain of her acceptance to, or rather her commitment to attending, Yale University in Connecticut, her parents are nevertheless in a congratulatory mood. Soon after her Yale acceptance party, Max makes an escape to nowhere; ending up in New Paltz, New York after following a random stranger on his bus ride home. We soon find out that that random person happens to be Ish, or Ishmael (Craig McDonald-Kelly), who plays a pivotal role in helping Max find herself, and forget the pain that her boyfriend has left behind for her to bear.
Max arrives in New Paltz with nothing but the clothes on her back and a suitcase full of books, not even knowing where she is going to sleep at night. In fact, Max only knows one thing: she is determined to know why her boyfriend left these books for her, packed in a suitcase next to his dead body. As she studies the prose, poetry, and literary works of many classic writers, including William Shakespeare, Sylvia Plath, Samuel Beckett, and even Kurt Cobain; enter Ish, an annoyingly persistent and overly curious, yet attractive, young man of about Max's age. Ish becomes the bane of Max's existence for the next few hours of her life, until she leaves the coffee shop she was studying at and is followed by Ish, who offers her shelter. Max and Ish begin to form a lasting bond while trying to decode the literary works that Adam left behind, exploring the town and woods where Ish is more or less homeless, and audits certain classes at the local college. Vartoughian as both the writer and director of the film has woven a very compelling story of the heartbreak of death, the struggle for life, and the beautiful changes we can experience when we hold out for hope. Although the story contained within Living with the Dead is highly compelling, its main weakness is the pace at which it is told. For the length of the film, much more could have been added to the storyline to clarify some points that may be a bit ambiguous to audience members. What it lacks in pace, however, it most definitely compensates with strong acting, dialogue, and cinematography.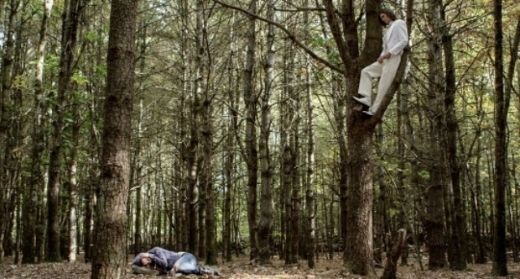 There are a couple familiar players within the film; Selenis Leyva, for her edgy role in Orange is the New Black, who makes slightly more than a cameo appearance. Another is Robert Clohessy, who plays John, Max's father, most recognizable for playing Sid Gormley in the show Blue Bloods as well as many other supporting roles. While they may not have as much experience as Leyva and Clohessy, Emily Jackson and Craig McDonald-Kelly, who play the main characters in Living with the Dead, are quite talented and show limitless potential. Living with the Dead definitely has the most believable acting of any of the films for the Anchorage International Film Festival I have had a chance to see so far, and the written dialogue makes for an even more convincing story. On top of the excellent acting and dialogue, the beautiful, clear, and sharp cinematography strengthens the film, contributing to its robust visual appeal.
When it comes to those who struggle with suicide, have had a loved one who has become victim to suicide, or even have been left to mourn the death of a loved one by natural or other causes, Living with the Dead is all the more an important film to see. Vartoughian makes it infinitely clear that she has either had firsthand experience, or has done thorough research into the lives of people who have had said experience with death and suicide. For someone who has struggled with depression, anxiety, and suicidal ideation for the majority of a decade, I felt as though I was experiencing Max's struggle right along with her. I could relate to each and every overwhelming feeling she was going through, and for me this film opened up a new vision of hope and promise for my personal future.