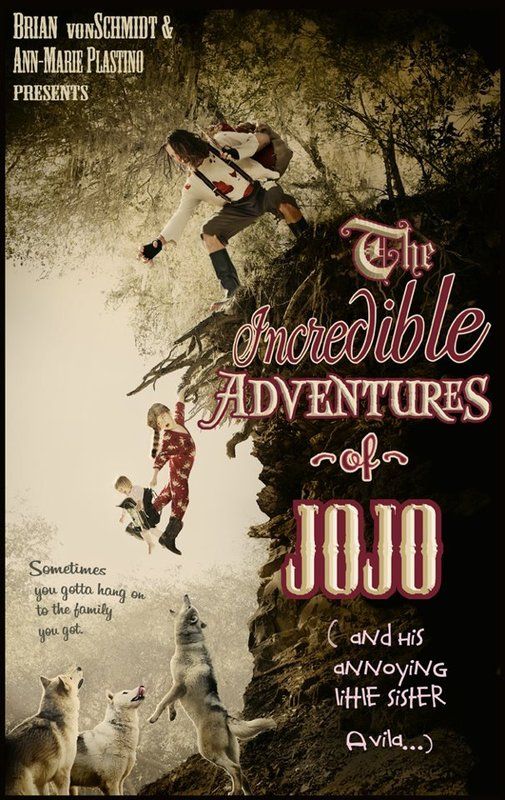 The Incredible Adventures of Jojo (and His Annoying Little Sister Avila)
by .Sick
"This is simply the most remarkable picture I've ever seen" says the cartoon caricature of Bill Grimes [extra portrayed in the end credits], to which Jeffery Hawkins' animated version of himself states, "Yes, if I was the director of this film festival I would definitely choose this picture." With its shameless self promotion, and its full on self awareness,
The Incredible Adventures of Jojo (and His Annoying Little Sister Avila)
is reminiscent of a B-roll film, sprinkled with definite elements of a higher quality Hollywood flick throughout. It is my near infallible speculation that the film is intentionally meant to use self-deprecating humor to accentuate the fact that it is a first time effort. What's more, it is easily recognizable that the film does indeed use satire to allude to subjects such as ignorant and inattentive parenting amongst other topics of contention or social debate.
Almost certain to be a big hit with the munchkins, yet absolutely certain to make parents cringe at times, this humor laden film is presented by
Repeal Child Labour Laws/TreeHouse Mafia
and directed by first time filmmaking couple, Brian von Schmidt and Ann-Marie Plastino. With similar humoristic qualities to Bo Welch's 2003 live-action remake of the timeless Dr. Seuss classic,
The Cat in the Hat,
The Incredible Adventures of Jojo...
bears its very own warning in the opening credits: "This is not a film for overprotective parents. Boys use pocketknives. Girls eat bugs." Although this warning is aired with levity and nostalgia, it should most definitely be heeded by it's intended audience, as the film does contain a bit of cleverly littered adult innuendo.
Aside from containing plenty of comedy,
The Incredible Adventures of Jojo...
is a drama in itself; modeled after the similar famous legend, Little Red Riding Hood.
The Incredible Adventures of Jojo...
tells the story of young Jojo, played by Joseph-Joseph Ogando, and his adventure to find his way back to his grandmother's house after his mother (Gina Plastino) becomes victim to a gruesome car accident on their way back home. Aside from Jojo being a six-year-old dependent of his mother, Jojo's quest is complicated by now also being responsible for his baby sister Avila, who is portrayed by Avila vonGoosebottom. Although vonGoosebottom had eight years of classical piano training under her belt at Juilliard, she took a break from her musical endeavors, making her big screen debut for the film. At only one and half years old, she adds a quirkiness to the movie with an ease that only a natural born actress can bring to a project.
This is also a coming of age story; as Jojo initially struggles with being tossed aside like a dirty nappy when his grandmother--who's only interaction with him seems to be her obsession with knocking him out with an oversized exercise ball--no longer finds him "the sole center of her love and affection." Jojo realizes exactly how much his grandmother actually loved him, when she bestows him with a parting gift before their trip home: his late grandfather's pocket knife. Throughout the movie, we can see Jojo's struggle with going from a boy whose "hands were only good for holding on to his weiner and pissing on bugs and critters," to a full grown six-year-old who changes his sister's diapers, and washes himself and their clothes while he shaves down by the river. Jojo and Avila encounter plenty more adventure, and more tough times than you can count on your fingers; hanging from a cliff, being dragged through the mud, close encounters with bear traps, wolves, and an old hobo with a grudge.
Fully self-funded,
The Incredible Adventures of Jojo...
took nearly six years to complete, with a full year of filming and the remaining time in post-production. Von Schmidt and Plastino draw direct inspiration from their own backyard in "a magical far away place called the boondocks," where people go to dump their troubles, as well as their ratty-tatty old couches. From its old time appeal, to its beautiful cinematography, and short, yet perfectly fitting soundtrack,
The Incredible Adventures of Jojo (and His Annoying Little Sister Avila)
is sure to be good fun, to be had by the whole family.
With this film being their directorial debut, Brian and Ann-Marie spend their time living in utter poverty and relentlessly working to repeal child labour laws. "I just want to give minors the chance to work 18 hour days that I have come to love and cherish," said Ann-marie. Brian piped in, "It's not fair that they get to go to bed at a decent time and don't get to develop that really amazing, completely dried-out red eye look that is all the rage these days." (incrediblejojo.com)